Is Digital Transformation a mystery to you? Has everyone been telling you the 'one' way to transform? Let 𝗗𝗶𝗴𝗶𝘁𝗮𝗹 𝗧𝗿𝗮𝗻𝘀𝗳𝗼𝗿𝗺𝗮𝘁𝗶𝗼𝗻 𝗗𝗲𝗺𝘆𝘀𝘁𝗶𝗳𝗶𝗲𝗱 clear up the confusion.

Watch the Virtual Book Launch and Discussion where each of the Industry Experts discuss their approach to Transformation.

About the Digital Dialogue Show
Welcome to Digital Dialogue, where industry experts discuss trending Digital Transformation topics.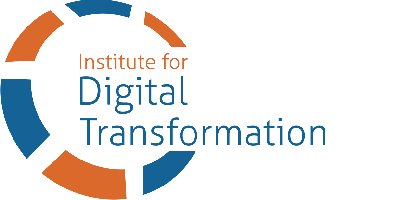 The Institute for Digital Transformation (The Institute) has over a decade of experience in helping companies transform themselves. We have taken this experience and combined it with research to develop the first analytical model that can predict the success of your company's transformation effort. Based on our analysis, you will be able to institute programs that will dramatically improve your chances of a success transformation.