We are pleased to announce The Institute has released Version 2 of the Digital Enterprise Readiness Assessment providing major enhancements.
Here are some of the new features in this release:
Our Assessment is now hosted on a web-based digital platform, which provides for easy data collection, robust analytics, and year-over-year analysis
Rapid deployment to a new customer can be accomplished in a day
Analysis and final report are available days after data collection closes
The entire process takes less than two weeks
Recommended improvement activities are based on our proprietary analytical model, not subjective opinions
Benchmarking is built into this release, but will not be made available until there are sufficient respondents in the base
For Partners Only:

Easily incorporated into your existing service offerings
Co-branding of all assessment materials
Ability to collect additional data based on your business model
Generate new business based on suggested improvement activities
Our new release is quicker to deploy, provides reports within days and is easier to incorporate into your services. The list of recommend improvement activities in the final report is sure to generate new business opportunities.
What Makes The Institute's Framework So Unique?
Analytical vs. Subjective:  Our findings and recommendations are produced by a model that is based on a decade of experience combined with Best Practices and academic research that ensures measurable, repeatable results. Results from typical assessment vary based on the experience and expertise of the assessment team.
Inclusive vs. Selective: Our assessment gathers information from the entire organization, not just a selective sample chosen by Management.
Vendor Agnostic vs. Self-Serving: Our recommendations can be implemented by yourself or any vendor. And even more important, our Framework integrates seamlessly with other technology, process frameworks, methodologies, or approaches that you are already using.
Take our Assessment Demo. It provides the same experience as the respondent (with a very limited question set) and automatically emails you a sample of  the final report (also shortened) that the sponsor would receive.
Don't hesitate to contact The Institute for more information.
If you are ready to get started now, book an appointment to discuss conducting an assessment for your organization or becoming a partner.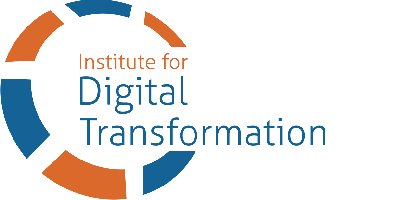 The Institute for Digital Transformation (The Institute) has over a decade of experience in helping companies transform themselves. We have taken this experience and combined it with research to develop the first analytical model that can predict the success of your company's transformation effort. Based on our analysis, you will be able to institute programs that will dramatically improve your chances of a success transformation.