In their recent MIT Sloan Management Review article, "Designing and Developing Analytics-Based Data Products," authors Thomas H. Davenport and Stephan Kudyba note that a large variety of data products now enhance the consumer experience. LinkedIn's "People You May Know" feature is one example. So, too, is Zillow's Zestimate, which uses publicly accessible housing data to predict what price a homeowner might get for the sale of his or her house.
MIT Sloan Management Review hosted the attached webinar where they discuss the process of developing these new generations of data products.
http://sloanreview.mit.edu/article/iot-and-developing-analytics-based-data-products/
Dr. Frank Granito, Institute Fellow, says "Being a Digital Organization means much more than simply applying technology to legacy business practices.  It means being agile enough to move at the speed of technology.  One shows "Digital Readiness" by having the technology systems, the culture, and the organizational and strategic agility to adjust in what can be called the "Digital Economy."  We can do this through good data.  Prior to the "Digital Age" data was harder to come by and certainly harder to store and process.   The Internet of Things (IoT) now gives us the ability to gather data from many sources and devices.  However, the data has little value unless coupled with the analytics to exploit it.  The authors' "seven steps that companies go through in the development of data products" provides a good blueprint to take advantage of the sometimes overwhelming data Digital Organizations need to measure and improve both the external customer environment and the internal business processes.  However, one must be Digitally Ready to take advantage of this new found wealth of information – the organization must not only have the technology and the culture, but it must also be organizationally and strategically agile to survive…and thrive…in the Digital Economy."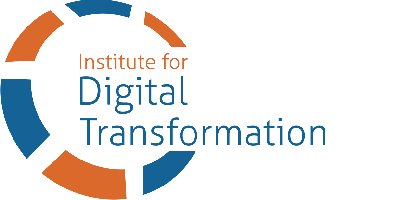 The Institute for Digital Transformation (The Institute) has over a decade of experience in helping companies transform themselves. We have taken this experience and combined it with research to develop the first analytical model that can predict the success of your company's transformation effort. Based on our analysis, you will be able to institute programs that will dramatically improve your chances of a success transformation.