Join Jessica Carroll in Dallas at DatacenterDynamics Colo + Cloud as she explores Combining hybrid cloud and flash-storage with hyperconverged infrastructure: one (big) step closer to digital enterprise transformation. Jessica will also be on the panel 10 REALLY BIG IDEAS! Forecasting the Multi-tenant Colo and Cloud Services Data cCenter for 2025.
This event will explore key questions, such as:
What major trends do we now see that will define the evolution of the multi-tenant colo and cloud services data center?
How are network and IT systems architects drawing the blueprints for the true software-defined, open-source, data driven, autonomous data center of the future?
What energy and thermal technology breakthroughs will mature to production level?
What external factors will drive data center design transformation?
What will savvy investors and developers begin to plan now! Whose REIT stock should you buy tomorrow?
CLICK HERE for registration information and to learn more about this event.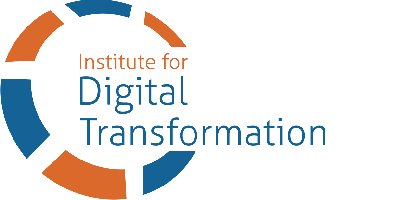 The Institute for Digital Transformation (The Institute) has over a decade of experience in helping companies transform themselves. We have taken this experience and combined it with research to develop the first analytical model that can predict the success of your company's transformation effort. Based on our analysis, you will be able to institute programs that will dramatically improve your chances of a success transformation.