FOR IMMEDIATE RELEASE
Bridgewater, NJ, December 12, 2016 – The Institute for Digital Transformation and Intellyx are pleased to announce that Jason Bloomberg has been named our first Institute Analyst.
The Institute Fellow program recognizes industry leaders and experts who are at the forefront of leading their organizations and the industry into the Digital Era.
Jason Bloomberg, President of Intellyx, is the leading industry analyst and globally recognized expert on agile digital transformation. He writes and speaks on how today's disruptive enterprise technology trends support the digital professional's business transformation goals.
He writes for Forbes, his biweekly newsletter the Cortex, and several contributed blogs. He also helps technology vendors and service providers communicate their digital transformation stories. His latest book is The Agile Architecture Revolution (Wiley, 2013).
Mr. Bloomberg has published over 750 articles, spoken at over 350 conferences, webinars, and other events, and has been quoted in the press over 1,500 times.
At SOA-focused industry analyst firm ZapThink, Mr. Bloomberg created and delivered the Licensed ZapThink Architect (LZA) SOA course and associated credential, certifying over 1,700 professionals worldwide. He is one of the original Managing Partners of ZapThink LLC, which was acquired by Dovel Technologies in 2011.
"At Intellyx we believe that digital transformation is more than a simple business transformation," says Jason Bloomberg, President of Intellyx. "It requires that organizations implement change itself as a core competency. The Institute for Digital Transformation has been saying much the same thing, so I'm excited to be working together."
The Institute is pleased to have Jason join us as our first Institute Analyst. We are sure that you will enjoy his views on agile digital transformation.
The Institute for Digital Transformation is a content and media organization, existing in the space between a think tank and an analyst/research firm. Through our network of Institute Fellows, we explore the impacts on organizations and their leaders as we transition from the Industrial to the Digital Era. Producing a wide range of insightful and thought-provoking content ranging from white papers and eBooks to interactive development programs to live events, we help develop leaders for the Digital Era and help them transform their organizations into Digital Enterprises.
Contact:
The Institute for Digital Transformation
Phone: 877-751-2700
Email: info@i4dt.org
Intellyx is the first and only industry analysis, advisory, and training firm focused on agile digital transformation.
 Intellyx works with enterprise digital professionals to cut through technology buzzwords and connect the dots between the customer and the technology – to provide the vision, the business case, and the architecture for agile digital transformation initiatives.
Contact:
Intellyx
Phone: +1-617-517-4999
Email: agility@intellyx.com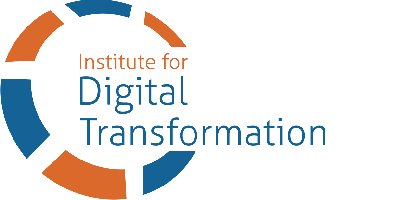 The Institute for Digital Transformation (The Institute) has over a decade of experience in helping companies transform themselves. We have taken this experience and combined it with research to develop the first analytical model that can predict the success of your company's transformation effort. Based on our analysis, you will be able to institute programs that will dramatically improve your chances of a success transformation.