FOR IMMEDIATE RELEASE
Bridgewater, NJ, September 23, 2016 – The Institute for Digital Transformation is pleased to announce that Jeff Ton has been named an Institute Fellow.
The Institute Fellow program recognizes industry leaders and experts who are at the forefront of leading their organizations and the industry into the Digital Era.
Mr. Ton is the Executive Vice President of Product and Service Development for Bluelock, a cloud provider and services company. He is responsible for driving the company's product and service vision and strategy. He focuses on the evolving IT landscape and the changing needs of Bluelock's clients, and, together with the Bluelock team, ensures their products and services meet their client's needs and drives value within their organizations now and in the future.
He brings a strategic view of business and identifies innovative approaches to achieve business objectives by leveraging technology where and when appropriate. Adept at building and leading teams, both in-line and cross-organizational, he has been a catalyst for change across the businesses he has served. Prior to joining Bluelock, Jeff spent 5 years at Goodwill Industries of Central Indiana where he led the development and implementation of the enterprise-wide information technology portfolio, including applications, infrastructure, security and telecommunications across the Goodwill business units.
"I am excited to have been selected to join the Institute for Digital Transformation's Fellow Program," said Mr. Ton. "Being able to join with other thought leaders to help businesses and individuals gain a better understanding of the disruption occurring around them and to help them define strategies to thrive in this new reality is incredibly rewarding. I am looking forward to learning from the collaboration and the sharing of insights."
We are excited to welcome Jeff as one of our Institute Fellows and are eager to share his real world experiences with our community of digital leaders.
The Institute for Digital Transformation is a content and media organization, existing in the space between a think tank and an analyst/research firm. Through our network of Institute Fellows, we explore the impacts on organizations and their leaders as we transition from the Industrial to the Digital Era. Producing a wide range of insightful and thought-provoking content ranging from white papers and eBooks to interactive development programs to live events, we help develop leaders for the Digital Era and help them transform their organizations into Digital Enterprises.
Contact:
The Institute for Digital Transformation
991 US Highway 22, Suite 200
Bridgewater, NJ 08807
Phone: 877-751-2700
Email: info@i4dt.org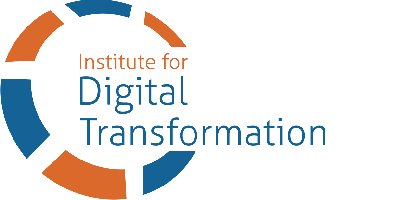 The Institute for Digital Transformation (The Institute) has over a decade of experience in helping companies transform themselves. We have taken this experience and combined it with research to develop the first analytical model that can predict the success of your company's transformation effort. Based on our analysis, you will be able to institute programs that will dramatically improve your chances of a success transformation.