The Institute is pleased to announce that Founder, Charles Araujo, and Chief Scientist, Dr. Francis Granito, will be at the Northeast IT Leaders Forum next week (June 9-11) in Boston at the Revere Hotel. The event is being hosted by our good friends and partners SINC.
The SINC Northeast IT Leaders Forum will bring together the top innovative IT leaders across the Northeast Region for two days of engagement.  The Forum will address the topics that most directly impact the resource challenges of the attendees, which in turn, will drive the growth of the Northeast region's IT industry and community.
The Forum will be geared towards strengthening the IT community across Northeast, while creating beneficial networking opportunities that will contribute to the IT industry's growth throughout the region.  IT service providers and executives alike, will engage through presentations on top industry trends, one-on-one engagements, and open-discussion group meetings. With support from local institutions, associations and government bodies, this program will redefine executive level networking in one of the fastest growing regions in the United States.
If you need more incentive, The Institute will be making a special offer to the attendees regarding our Digital Enterprise Readiness Assessment.
Hope to see you there.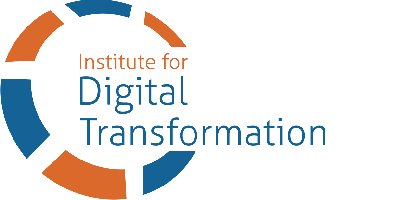 The Institute for Digital Transformation (The Institute) has over a decade of experience in helping companies transform themselves. We have taken this experience and combined it with research to develop the first analytical model that can predict the success of your company's transformation effort. Based on our analysis, you will be able to institute programs that will dramatically improve your chances of a success transformation.