Please join the itSMF USA Nations Capital Local Interest Group for our next meeting hosted by MITRE Corporation that will include a presentation on Organizational Change in the Digital Age.
Wednesday May 23, 2018
5:00 p.m. – 7:30 p.m.
MITRE-2 Building, Room 1N100
 7515 Colshire Drive, McLean, VA 22102
Gartner estimates that over 70% of transformation initiatives fail and Forbes reports that 84% of Digital Transformation efforts fail. Many organizations erroneously think of a Digital Transformation as integrating Digital Technologies. This is merely an IT transformation and is directed at optimizing IT services for business or organizational needs and outcomes. Culture is why most digital transformation efforts fail. A successful digital transformation is not, in fact, a technology-driven endeavor. It is first and foremost a cultural and organizational transformation. Learn how your organization can be prepared for this profound transformation by understanding the four pillars of Digital Transformation "Readiness:"
Operational Sustainability – Does your organization have a stable base to operate from?
Organizational Agility – How quickly can your organization react to change?
Strategic Agility – How well does your organization anticipate change?
Disruptive Culture – How receptive is your organization and people to implementing change?
True Digital Transformation is more than just implementing Digital Practices and Digital Technologies. Digital Transformation rightly targets optimizing business or organizational effectiveness via digital investments and IT services. Transformation occurs when business strategies or major sections of an organization are altered. This can be quite disruptive and stressful for an organization. In short, Transformation efforts fail because organizations are not "Ready" to transform by exhibiting Operational Sustainability, Organizational Agility, Strategic Agility, and finally a Disruptive Culture.
About Our Speaker
Frank Granito, Chief Scientist, Managing Partner, and Institute Fellow at the Institute for Digital Transformation
Dr. Frank Granito, PMP, PMI-ACP, ITIL Expert. Frank is Chief Scientist, Managing Partner, and Institute Fellow at the Institute for Digital Transformation. He has over 35 years of experience in the Information Technology field and is Founder and CEO of Granito & Associates. In his role as Chief Scientist, Dr. Granito designed the evaluation tools and analytics for the Digital Enterprise Readiness Framework to assist organizations as they transition and adapt to the Digital Age. Dr. Granito holds a Doctor of Management from the University of Maryland University College and his work in Organizational Culture resulted in a Culture Model and Assessment Instrument tailored to IT Service Management implementations. He has successfully implemented IT Service Management transformation solutions for Government and Commercial clients.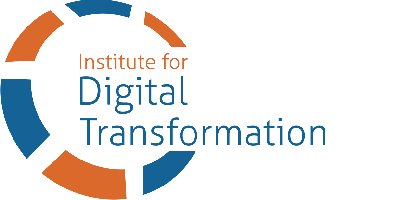 The Institute for Digital Transformation (The Institute) has over a decade of experience in helping companies transform themselves. We have taken this experience and combined it with research to develop the first analytical model that can predict the success of your company's transformation effort. Based on our analysis, you will be able to institute programs that will dramatically improve your chances of a success transformation.