Hillsborough, NJ,  May 16, 2019 – The Institute for Digital Transformation is pleased to announce that we have replaced the existing Partner Program with a Service Program that is available to all business customers. This ranges from individual consultants to large service providers.
Managing Partner, John Palinkas, explained the change as follows: "The key reason for the transformation was to change the thinking of potential customers. With a traditional partner program, too many potential customers are focused on the contract. What are the obligations of The Institute? What do I need to do to meet my obligations? And then there is the requested contract changes. We needed to change the perception of what our customers are getting. Hence the switch to a standard Service Program."
The new Service Program contains all the benefits of the previous Partner Program and removes all barriers to entry by removing the one-time setup fee and other requirements. The ONLY requirement of a business customer is to display The Institute logo, verbiage and link on their website.
The new Service Program provides that exact same service to all business customers. The delivery support, with The Institute doing all the work, remains the same. But we are now providing enhanced Pre and Post Sales support to all business customers. Finally, we have eliminated the tiered discounts and gone to a simple volume-based discount structure.
For more information on this program, visit our website at: https://www.institutefordigitaltransformation.org/why-partner-with-institute/
Ready to join our Service Program? Click here to schedule an appointment: https://www.institutefordigitaltransformation.org/about-the-institute/contact-us/join-our-service-program/
The Institute for Digital Transformation ("The Institute") exists at the intersection of a think tank, an analyst/research firm and a consulting company. Through our network of Institute Fellows, we explore the impacts on companies and their leaders as we transition from the Industrial to the Digital Era. Based on actual experiences and industry research, we produce a wide range of insightful and thought-provoking tools and content including: white papers / eBooks, interactive development programs, and live events. All of which prepares leaders for the Digital Era and guides them in transforming their companies into Digital Enterprises. Our Digital Enterprise Readiness Assessment is the first tool to objectively measure the readiness of a culture to endure the stress of a transformation.
Contact:
The Institute for Digital Transformation
Phone:        877-751-2700
Email:         TheInstitute@i4dt.org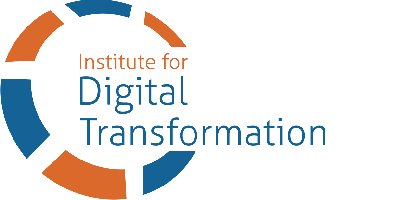 The Institute for Digital Transformation (The Institute) has over a decade of experience in helping companies transform themselves. We have taken this experience and combined it with research to develop the first analytical model that can predict the success of your company's transformation effort. Based on our analysis, you will be able to institute programs that will dramatically improve your chances of a success transformation.