Hillsborough, NJ, February 3, 2020 – The Institute for Digital Transformation is pleased to announce that Reynaldo Lugtu Jr has been named an Institute Fellow.
The Institute Fellow program recognizes industry leaders and experts who are at the forefront of leading their organizations and the industry into the Digital Era.
Rey is a digital and culture transformation thought & action leader, a sought-after public speaker, and an accomplished educator, author, business columnist, and innovation coach. He is the CEO of Hungry Workhorse, a digital and culture transformation consulting firm. He has engaged with several companies and organizations on digital transformation and innovation. He is also the Country Representative of the Institute of Change and Transformation Professionals Asia (ICTPA).
He is Professorial Lecturer in the MBA program of De La Salle University and Lecturer on Digital Transformation, Leadership and Management in the Benilde – School of Professional and Continuing Education. He is a business columnist and writer for Manila Times, Manila Bulletin, and Business World.
"I'm honored to be a Fellow of the Institute for Digital Transformation. I'm thrilled and excited to contribute and be a part of this premiere global organization of industry experts and thought leaders which helps in society's transition to the Digital Era."
We are pleased to have Rey join the Institute as one of our Fellows and look forward to his unique leadership and collaboration ideas.
The Institute for Digital Transformation ("The Institute") exists at the intersection of a think tank, an analyst/research firm and a consulting company. Through our network of Institute Fellows, we explore the impacts on companies and their leaders as we transition from the Industrial to the Digital Era. Based on actual experiences and industry research, we produce a wide range of insightful and thought-provoking tools and content including: white papers / eBooks, interactive development programs, and live events. All of which prepares leaders for the Digital Era and guides them in transforming their companies into Digital Enterprises. Our Digital Enterprise Readiness Assessment is the first tool to objectively measure the readiness of a culture to endure the stress of a transformation.
Contact:
The Institute for Digital Transformation
Phone:        877-751-2700
Email:         TheInstitute@i4dt.org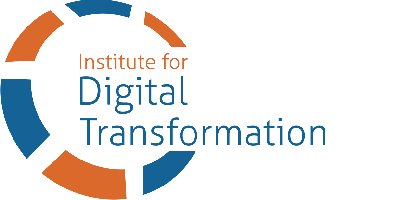 The Institute for Digital Transformation (The Institute) has over a decade of experience in helping companies transform themselves. We have taken this experience and combined it with research to develop the first analytical model that can predict the success of your company's transformation effort. Based on our analysis, you will be able to institute programs that will dramatically improve your chances of a success transformation.