Jeff Ton
CIO of Goodwill Industries of Central Indiana
Jeff Ton, CIO of Goodwill Industries of Central Indiana, tells us that in a world in which everything is changing, the secret to survival may be simply learning how to learn.
In this episode of The Transform IT Show, Charles Araujo sits down with Jeff Ton, CIO of Goodwill Industries of Central Indiana to discuss why becoming a "lifelong learner" has been one of the keys to his success and longevity as an IT leader. He shares with us the power of conscious choice, the need for transparency and why learning may be one of the most critical skills for the future.
About The TransformIT Show
What does the future hold for IT organizations?
And what will that mean for their future leaders?
These questions are explored during each episode of the TransformIT Show.
Host Charles Araujo interviews business executives, IT leaders, futurists and industry experts to understand how their career and experiences shed light on what the future holds for business and the IT organizations that power them. Most importantly, our guests share their advice for all future leaders about how to survive and thrive in the Digital Era.
Shows were filmed when we were know as the
IT Transformation Institute
. All shows are available on our
YouTube Channel
.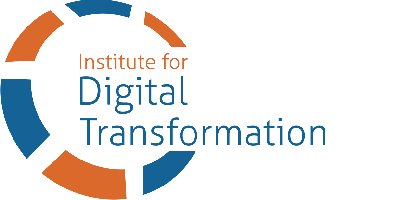 The Institute for Digital Transformation (The Institute) has over a decade of experience in helping companies transform themselves. We have taken this experience and combined it with research to develop the first analytical model that can predict the success of your company's transformation effort. Based on our analysis, you will be able to institute programs that will dramatically improve your chances of a success transformation.