Our Story
Our MISSION is to get your organization READY for transformation.
But how did we get here?
Back in 1997, Charles Araujo founded CastlePointe as a "lifestyle" company, meaning his former employer wanted to hire him back as a consultant. After this engagement ended, Charlie decided he enjoyed life as a consultant. He quickly found other assignments providing strategic planning and operations efficiency improvements to enterprise IT organizations.
At some point, Charlie discovered ITIL (Information Technology Infrastructural Library) and thought he had found the answer to why so many IT projects failed. The process framework seemed to be "The Solution". Charlie changed the focus of CastlePointe to be a process improvement company specializing in ITIL. Charlie became deeply involved with itSMF USA, eventually being elected to President and serving on the Board.
In 2008, Charlie met John on an ITIL assessment and they immediately hit it off (think fire and gasoline). What made this ITIL assessment so unusual, was the importance the client placed on culture. After much discussion (i.e. screaming and shouting), a section on culture was included in the ITIL assessment. After the assessment was delivered, Charlie and John (happily) went their separate ways. But that was not the end.
A few months later, the client wanted to implement recommendations from the ITL assessment and insisted that both Charlie and John first plan and then lead the implementation. After a while, they both came to understand that although their approach was different, they were both heading toward the same objective. They also realized that Process was not the Ultimate solution, but instead people and culture were the "magic" key. They developed "DeepRoots" methodology focused on changing IT Organizations. It had all the things an IT Organizations loved (templates, reviews, approval process, project management, time-frames, etc.). But after the client started using it, they realized "DeepRoots" was not about changing the technology, it was about changing people's attitudes and behaviors. A testimonial from Senior VP said "You have no idea how much you've changed my organization."
That engagement lead to the evolution into the IT Transformation Institute in 2011, whose focus was to use "DeepRoots" methodology to quickly and successfully implement change in IT Organizations. In addition to working with dozens of Fortune 500 companies, Charlie found time to write his first book ""The Quantum Age of IT: Why Everything You Know About IT is About to Change". (The first line is epic. "IT as we know it is dead.") and serve as host for the Intel sponsored show "TransformIT Show". And dozens of organizations around the world engaged Charlie as a speaker.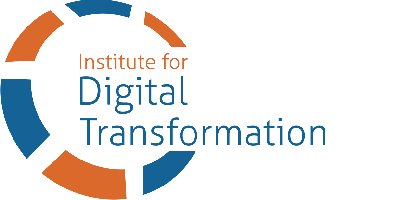 In 2015, Charlie and John had a couple of "Ah Ha" moments. First that IT was no longer the center of the Universe and second to really change the business world, they could not do it company by company as consultants. And the Institute for Digital Transformation was born. We started 2016 with a radical change in focus, we would not longer be consultants, instead we became advisors with a focus on producing media and content that would spread our message. But we could not do it alone.
We enlisted a couple dozen Industry Leaders as Institute Fellows who share their insights, opinions, research and real life experiences about the transition to the Digital Era. They each have a unique set of experiences and perspectives and offer their unique voice to help you understand the world that is shifting around you and what you must do to survive the transition. Just one more reason to subscribe to DigitalEraNow.
We were also joined by Dr. Frank Granito who would create the Readiness Framework and provide a focus on the development of tools and services that could be used by partners, consultants and service providers. (CLICK HERE) Be sure to check out our Readiness Assessment, Training, and Virtual Workshops. Frank's first book will be released soon.
Our Mission
The Institute for Digital Transformation ("The Institute") exists at the intersection of a think tank, an analyst/research firm, trusted advisors and system developers. Through our network of Institute Fellows, we explore the impacts on companies and their leaders as we transition from the Industrial to the Digital Era. Based on actual experiences and industry research, we produce a wide range of insightful and thought-provoking tools and content including: automated/analytical assessments, white papers / eBooks, interactive development programs, and live events. All of this is intended to prepare leaders for the Digital Era and guide them in transforming their organizations into Digital Enterprises
We therefore need to create organizations and leaders who are comfortable operating with uncertainty and who can rapidly evolve their operating models to adapt to changing markets and directions. That is a transformational culture. That is transformational leadership.
And that's our mission:
To help develop the next generation of transformational digital leaders who can transform our organizations for the digital era.
Our Credentials
Founded in 1997
Focused exclusively on Transformation since 2009
Long before "Transformation" was cool!
Over a decade of experience in helping Fortune 500 companies successfully transform
Our Founder, Charles Araujo, is an internationally recognized expert on digital leadership and transformation and is a sought after keynote speaker
Best selling book about the future of IT, The Quantum Age of IT: Why Everything You Know About IT is About to Change, authored by Founder, Charles Araujo in 2012
Producers of The Transform IT Show, sponsored by The Intel IT Center
Dr. Frank Granito's created the Readiness Framework by melding doctoral dissertation, in Organizational Culture, the Institute's decade of experience, and participation in Research Projects

Created first automated, analytical tool to objectively measure a company's "readiness" to transform
Developed and delivered first training curriculum focused to help organizations successfully transform
Charles Araujo
Charles Araujo is a technology analyst and internationally recognized authority on the Digital Enterprise and Leadership in the Digital Era who advises technology companies and enterprise leaders on how to navigate the transition from the Industrial Age to the Digital Era. Having spent over thirty years in the technology industry, he has been researching Digital Transformation long before it became the uber-buzzword of today, and is now focused on helping Digital Era Leaders prepare themselves and their organizations as the macro trends of the primacy of the customer and the primacy of the algorithm collide, ushering us into what he calls The New Human Age.
Principal Analyst with Intellyx, founder of The Institute for Digital Transformation, author of three books, and most recently the co-founder (with his wife) of The MAPS Institute, he is a sought-after keynote speaker and has been quoted or published in CIO, Time, InformationWeek, CIO Insight, NetworkWorld, Computerworld, USA Today, and Forbes.
Dr. Frank Granito
Dr. Frank Granito is Chief Scientist and Lead Fellow at the Institute for Digital Transformation. He has over 40 years of experience in the Information Technology field and has successfully implemented IT Service Management transformation solutions for Government and Commercial clients. Dr. Granito holds a Doctor of Management from the University of Maryland University College with a thesis on Organizational Culture.
As Lead Fellow, Frank selects current transformational topics and leads the monthly  discussions with all of  the Institute Fellows, parts of which are available on our YouTube Show "Digital Transformation Unplugged". In his role as Chief Scientist, Dr. Granito created the analytical model that is the basis of the Digital Enterprise Readiness Framework. He designs, creates and produces the analysis of our Snapshot Research. He is also one of the hosts of the YouTube Show "Snapshot Research Brief".
John Palinkas
John Palinkas has over 40 years of experience as an Enterprise Leader and Consultant which have allowed him to develop a deep understanding of what is required to successfully evolve an organization into a Digital Enterprise. Although technology and process play an important role, true and lasting change is driven from a behavioral and cultural perspective.
John was one of the founders of AT&T Solutions, which grew to a $5 billion dollar outsourcing organization in less than four years. In addition to leading numerous multiple million-dollar outsourcing and managed service engagements for dozens of Fortune 500 companies, John was the Chief Architect of AT&T Solutions' $5B acquisition of the IBM Global Network. After leaving AT&T, John served a Director at two consulting companies and British Telecom.
John initially joined the Institute as a consultant to support an ITIL engagement. A few months after the engagement concluded, the client requested John and Charlie lead the implementation of the recommendations from the assessment. They spent the next two years creating change methodologies based on behavioral and cultural modification. As Managing Partner, John leads the development of the of The Institute's strategic direction and handles all financial, legal, partnership and infrastructure matters.
Our Institute Fellows
Institute Fellows are Industry Experts who share their insights, opinions, research and real life experiences about the transition from the Industrial Era to the Digital Era. They each have a unique set of experiences and perspectives and offer their unique voice to help you understand the world that is shifting around you and what you must do to survive the transition and thrive in the Digital Era.