Hillsborough, NJ, January 18, 2023 – The Institute for Digital Transformation is pleased welcome Aleta L. Jeffress as an Institute Fellow.
Aleta is currently Senior Vice President of Consulting Services and Denver Metro Lead for CGI. Before joining CGI, she served in the government and private sectors transforming organizations by developing business strategies, delivering significant return on technology investments and orchestrating complex change initiatives. She is a collaborative leader whose areas of expertise include strategic planning, business-technology alignment, talent development, culture change, technology procurement, and vendor management.
Aleta is an Entrepreneurial Executive with a passion for cultivating relationships and providing mentorship and opportunities for rising professionals. She often shares her expertise and breadth of experience through speaking engagements, panel presentations, and board leadership on a wide variety of organizations including the Colorado Technology Association, American Heart Association, Women in Leadership, and software start up interviewIA.
"Transformation is all around us.  As a former Chief Information Officer responsible for digital transformation and strategy, I'm honored to join and contribute to an organization focused on how to make others successful in their transformation journeys and careers.  I appreciate the challenge today's leaders face and look forward to assisting the larger digital transformation community."
Aleta is a graduate of Indiana University Bloomington with a BS in Public and Environmental Affairs. She has continued her education through the John C. Maxwell Certification Program as a coach, teacher, trainer and speaker and is a certified information systems security professional (CISSP) as well as a certified project management professional (PMP). Aleta lives in Elizabeth, CO, and enjoys an active lifestyle with her family and their four dogs.
We are pleased to have Aleta join the Institute as one of our Fellows and look forward to her unique leadership and collaboration ideas.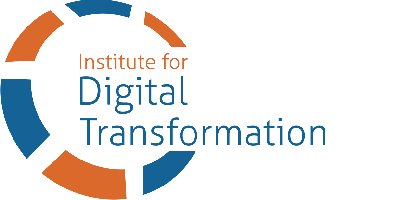 The Institute for Digital Transformation (The Institute) has over a decade of experience in helping companies transform themselves. We have taken this experience and combined it with research to develop the first analytical model that can predict the success of your company's transformation effort. Based on our analysis, you will be able to institute programs that will dramatically improve your chances of a success transformation.