Bridgewater, NJ, January 24, 2018 – The Institute for Digital Transformation is pleased to announce that Hans Gillior has been named an Institute Fellow.
The Institute Fellow program recognizes industry leaders and experts who are at the forefront of leading their organizations and the industry into the Digital Era.
Hans Gillior is a founding partner of The Goodwind Company, an advisory and knowledge company in field of digital transformation. The Goodwind Company believe in the sharing economy and the power of networks across borders and cultures. The company provides a "best practice" framework (service library) supporting Digital Transformation GooDIGITAL based on the collective knowledge and experience of Goodwind partners, academia and business partners.
Hans is an experienced Principal in field of IT/Digital Transformation with both senior line manager and senior advisor positions.  He has a proven track record of changing the mind-set of leadership, and implementing dynamic governance and capabilities to create a competitive advantage in unpredictable digital markets. He is a digital thought-leader part of local and global expert networks, but also a frequent speaker at conferences, management coach/trainer and author.
We are pleased to have Hans join the Institute as one of our Fellows and look forward to his unique leadership and collaboration ideas.
The Institute for Digital Transformation is a content and media organization, existing in the space between a think tank and an analyst/research firm. Through our network of Institute Fellows, we explore the impacts on organizations and their leaders as we transition from the Industrial to the Digital Era. Producing a wide range of insightful and thought-provoking content ranging from white papers and eBooks to interactive development programs to live events, we help develop leaders for the Digital Era and help them transform their organizations into Digital Enterprises.
Contact:
The Institute for Digital Transformation
991 US Highway 22, Suite 200
Bridgewater, NJ 08807
Phone: 877-751-2700
Email: info@i4dt.org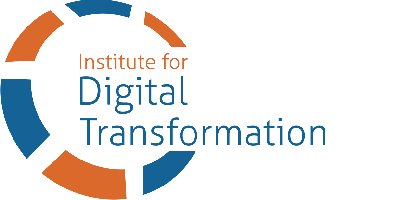 The Institute for Digital Transformation (The Institute) has over a decade of experience in helping companies transform themselves. We have taken this experience and combined it with research to develop the first analytical model that can predict the success of your company's transformation effort. Based on our analysis, you will be able to institute programs that will dramatically improve your chances of a success transformation.