Hillsborough, NJ, March 21, 2022 – The Institute for Digital Transformation is pleased welcome Patti Blackstaffe as an Institute Fellow.
Patti is the CEO of GlobalSway, focusing on Leadership, Change & Transformation, and Governance. Author, Technology Leader, Coach, Trainer, and Entrepreneur; Patti's focus is on people, product, and profit – in that order. Consulting, training, and coaching executives and teams, she has a no-baffling-shenanigans (No B.S.) approach to moving people away from outdated leadership practices and organizational structures. She is on a mission to ignite the fusion of technology and humanity. After working internationally in Technology-driven industries for over 20 years, she helps companies thrive through exceptional digital leadership. Interviewed by Success magazine, recognized as a 2021 Thought Leader by HDI, and sits on the Industry Advisory Council for the Business Technology Management and Analytics (BTMA) program at the Haskayne School of Business, University of Calgary. An avid champion for technology leaders and ethical leadership, she volunteers for The WorkplaceStop, a Canadian coalition whose mission is to reduce workplace bullying, harassment, and systemic harm.
"Since I started in the tech field many years ago, I've been passionate about closing the gap between enabling technologies and meaningful human change helping a business transform. The Institute for Digital Transformation's network of Institute Fellows brings years of experience to companies to prepare them for the nuances beyond technology; I couldn't be more honored to be among them."
We are pleased to have Patti join the Institute as one of our Fellows and look forward to her unique leadership and collaboration ideas.
About the Institute:
The Institute for Digital Transformation provides digital leaders with the resources needed to transform their organizations into Digital Enterprises. Guided by the real-world experience of our Institute Fellows and our proprietary industry research, we produce a wide range of insightful leading-edge methodology, tools, content, and news summaries needed for a transformational journey.
Why? Because digital transformation is now a strategic imperative!
But it is not just something you do, it's an attitude and an approach. The buzz and hype created over the last few years has resulted in confusion and ubiquity that has rendered the term nearly meaningless. Transformation extends far beyond the technology stack and must include the organization's culture, its operating processes, and virtually every facet of how it functions — areas that the industry has largely ignored, with predictable results.
The Institute is your first stop for the insights, tools, and guidance needed to lead your organization past the hype into a Digital Enterprise.
Click HERE to learn more about the Institute's Fellow Program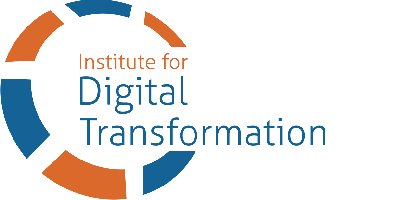 The Institute for Digital Transformation (The Institute) has over a decade of experience in helping companies transform themselves. We have taken this experience and combined it with research to develop the first analytical model that can predict the success of your company's transformation effort. Based on our analysis, you will be able to institute programs that will dramatically improve your chances of a success transformation.