FOR IMMEDIATE RELEASE
Bridgewater, NJ, April 18, 2016 – The Institute for Digital Transformation is pleased to announce that Jessica Carroll has been named an Institute Fellow.
The Institute Fellow program recognizes industry leaders and experts who are at the forefront of leading their organizations and the industry into the Digital Era.
Jessica has over 20 years of experience serving in leadership roles in the technology industry, most recently as Managing Director for Information Technologies at the United States Golf Association where she led the infrastructure, business resilience, security, operations, and development disciplines. She is presently the Service Operations Executive with Alliant Technologies.
A recognized leader who develops and articulates vision and solutions from both technical and business perspectives, Jessica has a passion for transforming IT into a customer focused organization. She speaks frequently on the topics of cloud computing and team culture and has previously been published in CIOInsight and BizTech magazine. In 2010, she was named by Computer World as a "Premier 100 IT Leader".
"The exciting part of being an IT leader in the digital age is that we get to change the conversation and dynamic of the value of technology in the business." Jessica said. "As an Institute Fellow, we are embedded in a vibrant forum in which to share, listen, challenge, and shape the discussion around transformational business success. What an intellectually stimulating place to be right now!"
We are extremely pleased to welcome Jessica as an Institute Fellow and to provide a platform for her to share her insightful ideas with our Members and the worldwide community of transformational leaders.
The Institute for Digital Transformation is a content and media organization, existing in the space between a think tank and an analyst/research firm. Through our network of Institute Fellows, we explore the impacts on organizations and their leaders as we transition from the Industrial to the Digital Era. Producing a wide range of insightful and thought-provoking content ranging from white papers and eBooks to interactive development programs to live events, we help develop leaders for the Digital Era and help them transform their organizations into Digital Enterprises.
Contact:
The Institute for Digital Transformation
991 US Highway 22, Suite 200
Bridgewater, NJ 08807
Phone: 877-751-2700
Email: info@i4dt.org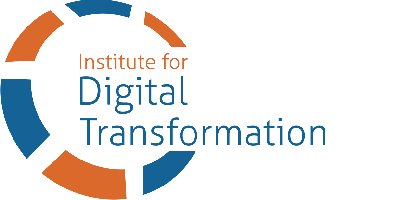 The Institute for Digital Transformation (The Institute) has over a decade of experience in helping companies transform themselves. We have taken this experience and combined it with research to develop the first analytical model that can predict the success of your company's transformation effort. Based on our analysis, you will be able to institute programs that will dramatically improve your chances of a success transformation.