FOR IMMEDIATE RELEASE
Bridgewater, NJ, June 1, 2017 – The Institute for Digital Transformation is pleased to announce the availability of the "Digital Enterprise Readiness Index".
In a sea of "Digital Readiness" indexes, assessments, reports, etc. the Institute's Index is unique in that it focuses on the Readiness of your organization to successfully execute a digital transformation. The majority focus on a specific aspect of the transformation: implementing digital practices / technologies, or changing operational processes or structures.
But why is Readiness important? Think of your favorite sports teams or the military. They are always training to maintain a constant state of Readiness. That is what enables them to win games and successfully complete missions. The same holds true for your organization.
IDT's Digital Readiness Index is based on both the Institute's experience working with numerous organizations executing digital transformation efforts along with research conducted by Institute Founder Charles Araujo and Institute Chief Scientist, Dr. Frank Granito.
For over a decade, the Institute has worked with organizations as they have executed IT and digital transformation efforts. During these efforts, the Institute gathered data about the factors that contributed to or hindered the success of these transformational programs. This data and experience formed the basis of the Index.
In addition, over the last four years the Institute has conducted or participated in several research projects, including one that explored in detail the differences between "Digital Transformation" and "IT Transformation". Combining this research data with the previously developed foundation, the Instituted created the Digital Enterprise Readiness Index to measure and benchmark an organization's readiness to successfully execute a digital transformation effort.
The resulting model seeks to assess an organization's readiness across four dimensions:
Operational Sustainability: Does your organization have a stable base from which to operate?
Organizational Agility: How quickly can your organization react to change?
Strategic Agility: How well does your organization anticipate change?
Disruptive Culture: How receptive is your organization to implementing change?
If your organization is not prepared for change, your transformation programs are likely to fail. In fact, Gartner and IDC estimate that over 70% of Digital transformation initiatives fail while Forbes puts the failure rate at 84%. An IDC Report states the reason for the high rate of failure "…transformation initiatives will ultimately fail because of insufficient collaboration, integration, sourcing or project management." In other words, because your organization was NOT READY to transform.
Take 30 seconds to complete our 5 question Digital Readiness Quiz to see just how ready your organization is. www.institutefordigitaltransformation.org/digital-readiness-quiz/
More information on the Digital Readiness Index can be found at: www.institutefordigitaltransformation.org/digital-enterprise-readiness-index
Technology Providers are encouraged to contact the Institute about incorporating the Index and Assessment in the delivery of their services as part of our partnership program.
Contact:
The Institute for Digital Transformation
991 US Highway 22, Suite 200
Bridgewater, NJ 08807
Phone: 877-751-2700
Email: info@i4dt.org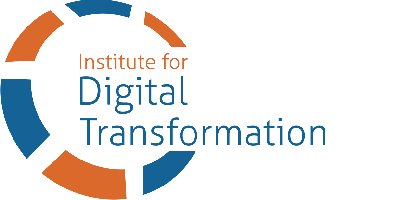 The Institute for Digital Transformation (The Institute) has over a decade of experience in helping companies transform themselves. We have taken this experience and combined it with research to develop the first analytical model that can predict the success of your company's transformation effort. Based on our analysis, you will be able to institute programs that will dramatically improve your chances of a success transformation.