Hillsborough, NJ, November 10, 2020 – The Institute for Digital Transformation is pleased welcome Roy Atkinson as an Institute Fellow.
The Institute Fellow program recognizes industry leaders and experts who are at the forefront of leading their organizations and the industry into the Digital Era.
Roy Atkinson is one of the most recognized thought leaders in IT, service management, and customer experience. He is a prolific writer, speaker, webinar presenter, and podcaster as well as an industry analyst. His expertise has been featured by The Economist, BizTech Magazine, Social Media Today, Computerworld, Oracle Customer Experience, SAP Business Innovation, and others. He was described on CIO Insight as a "model for the future digital leader" and by Nextiva as one of the "Top 50 Customer Service Experts of the Decade 2010-2020." He was HDI's 2019 Lifetime Achievement Award honoree. He holds a master's certificate in advanced management strategy from Tulane University's Freeman School of Business. Before stepping into his current role as CEO of Clifton Butterfield, LLC, a business advisory firm, he served a Group Principal Analyst for Informa Tech. He is a Professional Member of the National Speakers Association.
We are pleased to have Roy join the Institute as one of our Fellows and look forward to his unique leadership and collaboration ideas.
The Institute for Digital Transformation ("The Institute") exists at the intersection of a think tank, an analyst/research firm and a consulting company. Through our network of Institute Fellows, we explore the impacts on companies and their leaders as we transition from the Industrial to the Digital Era. Based on actual experiences and industry research, we produce a wide range of insightful and thought-provoking tools and content including: white papers / eBooks, interactive development programs, and live events. All of which prepares leaders for the Digital Era and guides them in transforming their companies into Digital Enterprises. Our Digital Enterprise Readiness Assessment is the first tool to objectively measure the readiness of a culture to endure the stress of a transformation.
Contact:
The Institute for Digital Transformation
Phone:        877-751-2700
Email:         TheInstitute@i4dt.org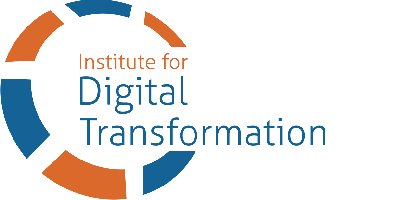 The Institute for Digital Transformation (The Institute) has over a decade of experience in helping companies transform themselves. We have taken this experience and combined it with research to develop the first analytical model that can predict the success of your company's transformation effort. Based on our analysis, you will be able to institute programs that will dramatically improve your chances of a success transformation.